ARCADIA VACATION RENTALS
presents
ARCADIA COTTAGES ON WILLSBORO BAY
Our Adirondack/Lake Champlain cottages are nestled on the shore of the Willsboro Bay section of Lake Champlain in Willsboro, New York.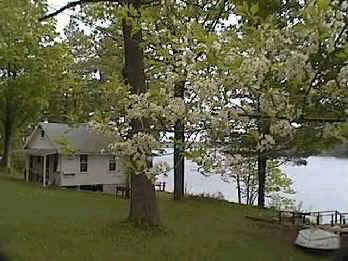 Camp BlueJay
The cottages are available from June to mid-September.
Please follow the links to learn more about the individual cottages. Ed & Laura, your host & hostess, will be glad to provide you with information about ways to make your trip special both prior to your arrival and during your stay. Your hostess, Laura is well-versed in lore, natural history and attractions of the area and will be happy to provide you with any needed information for a more enjoyable stay. Your host, Ed is quite knowledgeable about the fascinating early American history of the area. This area played key roles in both the Revolutionary War and War of 1812.Be sure to ask him about it.
A very scenic spot nestled in a quiet bay provides the perfect setting to just sit on one of the decks and watch the resident Great Blue Heron, Kingfisher and Blue Winged Teal and other assorted waterfowl go about their daily activities. The decks provide a special spot to enjoy that 1st cup of coffee as the early pastel colors of the day merge the sky and water. Guests are welcome to tie smaller boats to the dock. A guest mooring is provided for larger boats which can be launched at the modern launching ramp located a short distance across the bay. They can be brought into the dock for loading and unloading. The quiet country lanes afford wonderful biking opportunities. Superb hiking opportunities abound!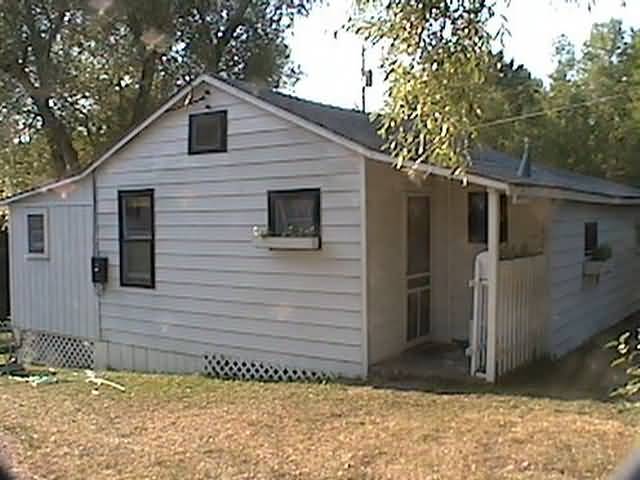 Camp Whippoorwill
Both cottages are very reasonably priced at $700 per week. Camp BlueJay sleeps 3 and Camp Whippoorwill sleeps 4 quite comfortably. Sorry, but we cannot accommodate children under 4. We occasionally permit small dogs for an add/l fee, please inquire. Both cottages have fully equipped kitchens including an assortment of spices, herbs, sugar & other supplies for those special cooking needs. Laura's herb garden is also available for fresh picked herbs in season. A crock pot, toaster, drip coffee maker and gas grill are also included. Guests are responsible for bringing their own sheets and towels. Be sure to check the amenities page for a full list of furnishings. The inside of both units are pleasantly smoke-free. Each cottage has a designated smoking area. No other smoking is permitted on the grounds.
Each cottage has an extensive collection of books, jigsaw puzzles and games for those quiet times. Modern showers in the bathrooms provide plenty of hot water. The glass enclosed porches are special spots to relax and watch the lake or read a book.
The week runs from 10AM Sunday to 11AM Saturday. A Sat. check-in is usually available if necessary for a slight add'l fee. Inquire at time of booking.
There are a never-ending variety of activities available for the outdoor enthusiast and culture seeker alike. Lake Placid is a very scenic 40 minute drive while the sights and culture of Montreal await you an easy 1 1/2 hour ride away. A scenic ferry ride takes you from Port Kent to the heart of downtown Burlington, Vermont so you can leave your car on the New York side, enjoy a breathtaking ferry ride taking in both the Green and Adirondack Mountain views and then enjoy the shops and sights of a charming New England city. A short 10 minute drive from your cottage brings you to the historic village of Essex exhibiting well-preserved 18th & 19th century architecture.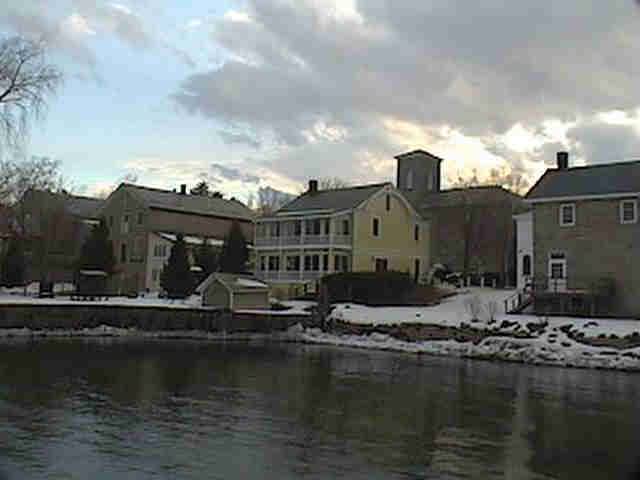 The historical Village of Essex
Hiking trails abound in the immediate area and the High Peaks are just a short scenic drive away. Bicycling our quiet country roads are an absolute delight. The Boquet River flows through downtown Willsboro with its educational fish ladder viewing area and the Ausable River is just 20 minutes away to satisfy the fishing enthusiast. Ausable Chasm, High Falls Gorge and Whiteface Mountain Toll Road are all a short drive away. The area is home to many museums to satisfy any history buff. The many galleries and delightful shops laden with the work of local craftspeople provide a pleasant way to spend an afternoon. Whether sailing, canoeing, kayaking or motor boating are your pleasure, Arcadia is your gateway to some of the best boating waters available. Lake Champlain is 120 miles long and when the lake is too rough to traverse, Willsboro Bay's 4 mile long sheltered waters can fill your needs.
The town of Willsboro can meet all your personal needs with it's 2 friendly markets, hardware store, pharmacy and 2 gas stations. A full service dive shop, Jones Aqua Sports which does dive charters are located a short drive across the bay at the Willsboro Bay Marina, a full service marina with nicely landscaped grounds and a fine dining restaurant. Trolling Tina Fishing Charters is located a short drive up the point at Indian Bay Marina where casual dining is also available during the summer. The Willsboro Heritage Society maintains two museums, the Adsit Cabin - a late 1700s log cabin and the Heritage Center next to the library in downtown Willsboro. The Things To Do page provides links to the above locations.
There are several restaurants as well as two diners in town to satisfy a wide variety of tastes. Willsboro is home to Catholic, Congregational and Methodist churches. An Episcopal and an additional Methodist church are a 10 minute scenic drive down the road in Essex.
Willsboro's central location provides ample opportunities for enjoyable day trips without a great deal of driving or you can spend your day just chillin' on Arcadia's grounds or relaxing on the beautiful sandy community beach a short stroll down the road. Access for your canoe or kayak is provided. The tree shaded grounds with it's flower gardens provide a lovely setting to just sit and read while taking in the below bay view.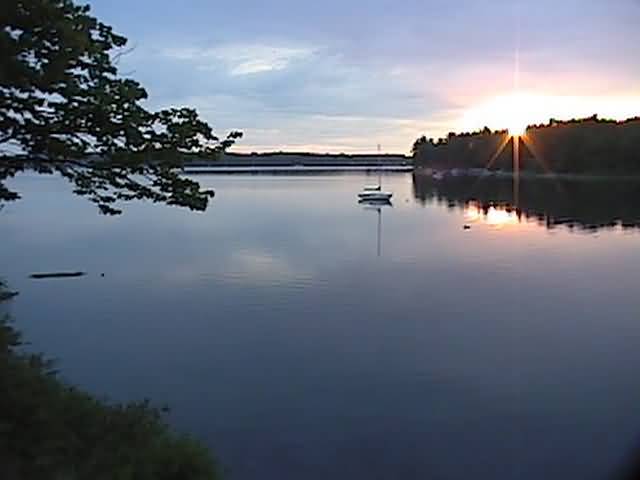 Early morning view from Camp BlueJay!
Whatever your vacation preferences, there is something to please everyone in your group.
We welcome you to our little piece of Heaven!
For reservations:
Please call 1-518-963-8941 or email arcadia@arcadiaco.com